This is one of the most pondered questions for first time home buyers. Realtors get asked all of the time–is buying a house or condo actually cheaper than renting? In this article we are going to show you that in most situations it can be.
The chart below shows a situation in which a renter begins with an $800 / month payment, which then increases annually by 5%. The homeowner, on the other hand, purchases their home for $110,000 and has a mortgage of $1,000 / month.​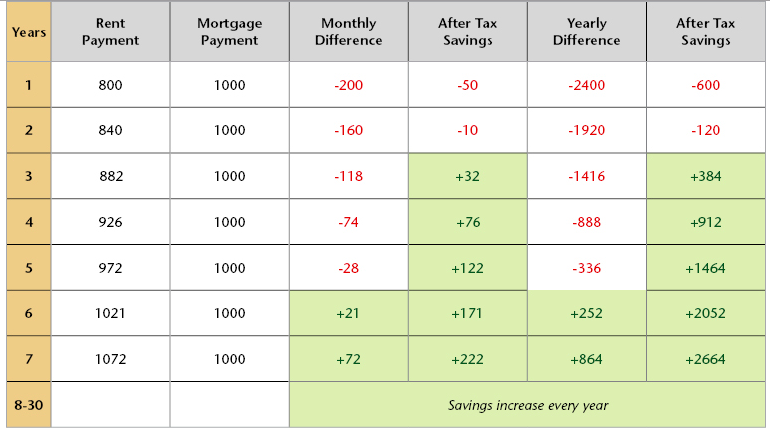 ​Source: Ginnie Mae
The tax benefits associated with homeownership begin to tip the scales after only 3 years, and after 6 years the mortgage payment itself is lower than the rent payment. Clearly, as this simple scenario illustrates, homeownership pays off–and sooner than you might think!
However, it cannot be stressed enough: This chart is hypothetical. ($110,000 for a home is well below the national average, after all!) There are many factors to consider before purchasing a house. Each city is unique in terms of its renting vs. housing prices, so what is the market like in your city? Do you have enough saved for a decent down payment? How long do you plan to stay in your home?
For a first-time homebuyer especially, condos can make for an excellent transition from renting. You get many of the financial benefits of homeownership (and often at a lower sticker price than a house) without a lot of the maintenance hassles and extra costs of a single family home. For those used to having a landlord on speed dial, this can be a huge weight off your shoulders!
These questions are great to ask a Realtor because they can quickly identify if you are able to purchase a home or not. Consider setting up a buying appointment to learn more about the home buying process.